The
Reputation

Lifecycle

A lifecycle that helps to build a better business and a better brand.
Introduction
Like any system, reputation too has a lifecycle. It consists of 5 elements: namely Evaluate, Build, Analyse, Manage and Market. Each element has to be executed step by step in order to build a better reputation as each is dependent on the other. However many times Evaluate & Build and Analyze & Manage are executed together as they are connected processes. This lifecycle shall provide a great opportunity for businesses to improve their brand value and reputation.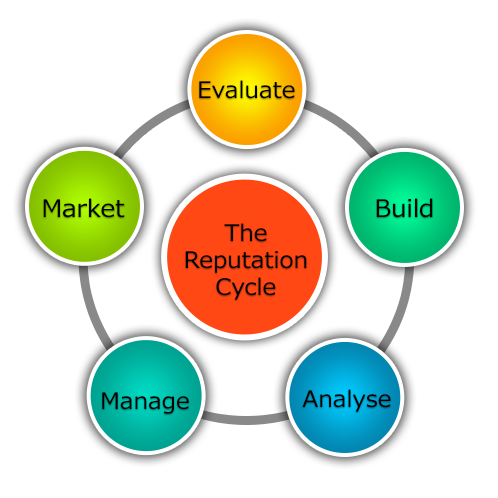 The Lifecycle
Evaluate
Evaluation of your reputation is to understand how people and media perceive you. The business has to periodically evaluate itself on these criteria to understand if their reputation is positive or negative. Evaluating online reputation has been more critical because controlling negative criticism is more difficult. Your business should be prepared to identify all such areas and understand how they best work for you.
Build
Once you have evaluated how well-known you are, you are ready to start building your reputation. Identify the areas where your presence is required, and what improvements are required in areas where presence has been established. There are various strategies that could be applied in building reputation. These techniques are important for you to follow and implement so that your reputation never sags.
Analyse
Once you have built your reputation, you need to analyse how it is working for you. Analysing is the method of identifying and breaking down the feedback that affects your reputation into finer details and evaluating each of them.
Manage
Once the Analysis is done you should manage your reputation to maintain a certain level. React quickly and politely to any negative content creation. Reputation Management is not just handling the negativity but also preventing its occurrence. Ensure good relations with your customers to cut down any negativity. You have to be proactive and keep a tab on your reputation to ensure that it is handled properly.
Market
Reputation Marketing is a good way of using your reputation to market your brand. It involves making use of your customer reviews and testimonials to create customer trust about you and improve your brand value. You can make use of reputation marketing to gain more customers or to help your potential customers make the decision of doing business with you and not with your competitor. Reputation marketing is a more effective marketing technique than most other means of marketing.
Conclusion
The reputation cycle is a never ending process, and has to be performed periodically. For detailed information related to the reputation lifecycle refer to "Chapter 3 – Reputation Cycle and Process" from the book "The Reputation Builder".