Extended Learning
Effective Techniques to Build and Improve your Reputation & Rule your Industry – A Strategy Based Approach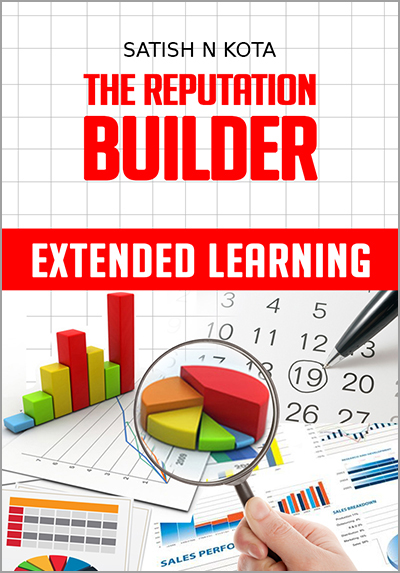 Extended Learning
Did you like reading the book "The Reputation Builder"? Thanks a lot! It encourages us as authors to write more content that could benefit you.
To treat you more, we have come out with lots of content that could help you improve your knowledge.Some of them are
Additional Content to the Book: You might have read a story or a quote or seen a chart in the book, but here we have written narrations, morals and explanations to them to give you more understanding. In any of the page. These additional content are to make your understanding in a much better way.
Additional Resources: In the book you read 30 sections of online resources which helps you to improve your presence and reputation. We have created additional resources that is industry specific and your business specific, so that you can work on your online reputation. These are available for you to download.
Notifications: We shall provide you with notifications on various activities that is based on your business and industry. These notification could be related to an event organized, an article, a report that will suit your business. These are given either as free or at a discounted price or exclusively to your business and industry.
All these and much more… You need to just register yourselves and access the content. Watch out for your Dashboard for exclusive content for your business. Registration is FREE!!!.