One review can get you 100s of Prospects
Ever thought of your reviews being your marketing manager? Reviews are generally used by businesses to show case to others what people think about their business. They have used reviews only to show case to a third person, what others have thought of them… However, not many businesses have tried using the same review to play a better game or be a game changer by reviews becoming your own marketing partner.  Yes, you can get more business just from your reviews and Revbay help you do that.
How??? Take a look at the below image.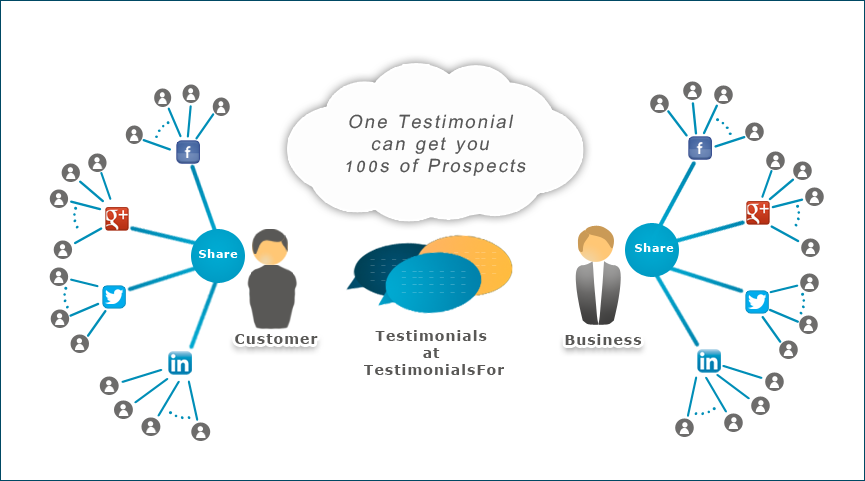 You requested a review on Revbay from your Happy Happy Customer!!!, They give a review to you whole heartedly, Once a review is given, Revbay asks your customer one another question.
"If you are happy, then could you give them 3 references or share your review to your network?"
Your Customer is overwhelmed, but does not know to whom to suggest your business, so 8 out of 10 times, you lose an opportunity to grow… What Revbay does is to give your Customers an opportunity to share the review to their Social Networks. Your customer is happy as it is very easy to share the review to their social networks.
With this share, Revbay opens up your Pandora's Box of your customer's friends, followers and connections to get to know that your customer gave a review to you. And they click on the link and come directly to see the review and in turn checkout your websites / landing pages. Since Social Networks are Viral, it's not just your customer's friends, but their friends and connections also have opportunity to check out the review which means more number of possible visits on your page.
You, on the other hand, can also share the same review to your Social Networks, where by any person who is following your business, can take a look at the review or share them to their friends.
So as we say, One Reviews in Revbay can lead to 100s of Prospects… Your cost for marketing will reduce a lot.
Revbay in its current date supports Facebook, Twitter, LinkedIn and Google+ social networks.
So why wait, Register today www.revbay.com as a business and take the best advantage of Reviews at Revbay become your Marketing Partner