The size of the internet in 2015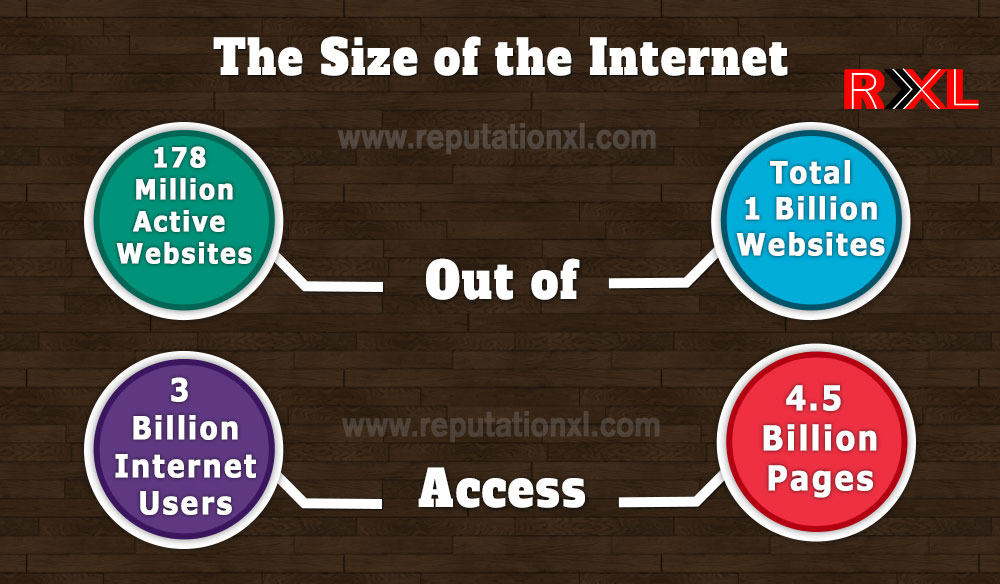 Source: Netcraft, Worldwidewebsize, Internetlivestats
There are total of more than a billion websites with over 178 million active websites. With over 3 billion internet users in the world. The internet is being accessed at a very high rate. On a daily basis over 4.5 billion pages are being accessed and 1.5 billion searches made.

Source: Internetlivestats.com
The current state of Internet users in the world shows that Asia stands in the top at 48% compared to its nearest competitor the Americas i.e. the North ,South & Central America put together at 22%. From the countries perspectives, China stands first in the list. The following are the top 10 countries with largest internet users
1. China – 642 Million
2. United States – 280 Million
3. India – 243 Million
4. Japan – 109 Million
5. Brazil – 108 Million
6. Russia – 84.5 Million
7. Germany – 72 Million
8. Nigeria – 67 Million
9. United Kingdom – 57 Million
10. France – 55 Million
(Source: Internetlivestats.com)
Though India has the lowest penetration at 20%, it is the fastest growing country in terms of internet users. Whereas United States, Germany, France, U.K., and Canada have the highest penetration with about 80% of population using internet.