Significant Facts and Statistics about Customer Reviews & Reputation
All are known how important online reputation management is, it takes years to build a reputation and few minutes to lose… if you believe it, then you shall do the right thing always. Here are some of the most significant facts and statistics about reputation and online reviews – and how that affects customer purchasing decisions today.
Role of Reviews and Reputation on buying process
1. A one-star increase in business average customer rating on a 5-star scale (e.g. from 3.5 to 4.5) makes potential customers 13.5% more likely to do a business with them. (Cornell University's Center for Hospitality Research, November 2012)
2. More than one third of customers will not do a purchase without reading reviews first. (LateRooms, November 2012)
3. A proper response to reviews from business owners is more likely to increase their overall reputation of the business (PhoCusWright, September 2012)
4. A negative review or comment on the Twitter, Facebook or other social media sites can lose businesses as many as 30 customers (Convergys Corp)
5. 92% of customers read product reviews and 89% of people say that reviews influence their purchasing decision. (e-tailing group)
6. 90% of customers trust recommendations from people they know (friends & relatives); 70% trust opinions of unknown users. (Econsultancy, July 2009)
7. 81% of people said they'd received advice from friends and followers relating to a product purchase through a social media sites; 74% of those who received such advice found it to be influential in their decision. (Click Z, January 2010)
8. 75% of people don't believe that companies tell the truth in ads. (Yankelovich)
9. 85% of executives use social media during a purchase decision (Forrester research)
10. The average customer references specific brands over 90 times per week in chats with friends, family, and co-workers. (Keller Fay, WOMMA, 2010)
Role of reviews and reputation on sales and revenue

1. A one-star increase in business average customer rating on a 5-star scale leads up to a 0.89% increase in price (ADR), a 0.54% increase in occupancy, and a 1.42% increase in Revenue per Available Room (RevPAR). (Cornell University's Centre for Hospitality Research, November 2012)
2. "If Business having good reviews of 4.0 or 5.0 generate more than double the conversion of a review of 1.0 – 2.9," (hotelmarketing.com)
3. 67% of customers spend more time online after recommendations from online community of friends. (Internet Retailer, September 2009)
4. Friends and family are the leading source of business recommendations among customers who did business directly (WIHP, May 2011)
5. Customers were willing to purchase between 38% more for a 5-star rated business than for a 4-star rated business. (comScore/Kelsey, October 2007)
Overall usage of online reviews
1. 70% of customers would be encouraged to leave a positive review if business staff were friendly and helpful. (LateRooms, November 2012)
2. 90% of customers write reviews to help others to make better purchasing decisions, and more than 70% want to help companies to improve the products they build and carry. (Bazaarvoice / Keller Fay Group)
3. 69% of online shoppers said they trusted the internet for guidance, versus 43% for magazines and 35% for TV (Yahoo, May 2011)
4. 78% of online users conduct product research before making a purchase (Pew Internet, May 2010)
5. Customer reviews are significantly more trusted — nearly 12 times more –than product descriptions that coming from manufacturers.  (eMarketer, February 2010)
Conclusion:
"The online reputation for your brands is a key success indicator for your business. Online reviews not only give us insights into your daily operations, they also directly influence your revenue and profitability. Revbay enables you to manage your business online reputation.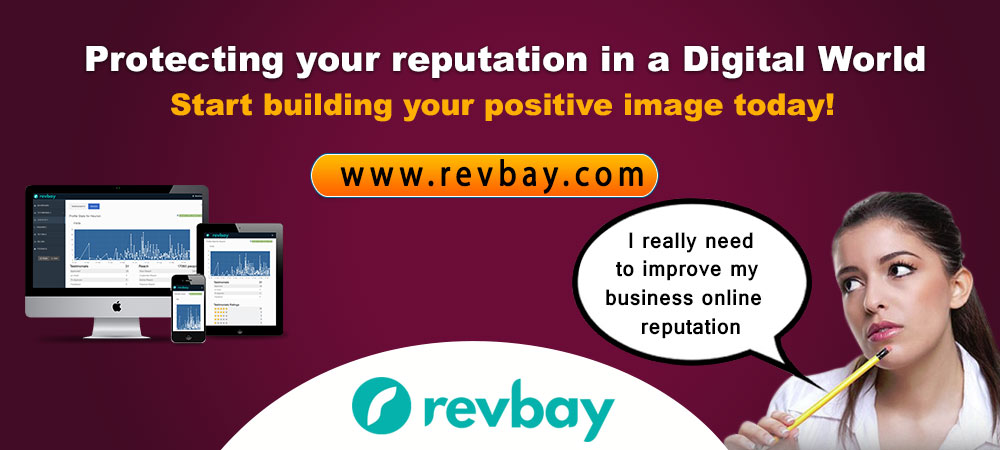 Contact us to schedule a free demo of our Online Reputation process. We can show how it can improve positive impact on your business online Visibility, search engine rankings, and revenue. Try it out today.