How to manage and Protect Your Business's online reputation?
Reputation management has become a critical aspect for businesses in every industry. A single negative review can cause damage for years. A hateful attack on your company from an unsatisfied customer, unhappy employee, or even a brutal competitor can destroy your business. Henceforth, managing and protecting Business's online reputation is a must do task for all the businesses.

And, if you are very keen on protecting or managing your business/brand's online reputation, Try Revbay – the best way to push down or suppress your negative reviews online and help you spread the positive reviews across the web.


As a Reputation Management system, we understand the value of your business. We have been helping our clients manage their online reputations through customer testimonials and reviews.
Our reputation management approach focuses not only upon what is happening now, but also what can happen in the future. We can intensely suppress negative results from search engines which are afflicting your business.
The Main motto of Revbay is "To help business gain more customers from their current customer list i.e. to grow from within", which means Revbay helps customers in various ways to gain more customers and prospects by use of Reviews, Feedbacks, References and Sharing.


Our Reputation Management Strategy can still be useful for you if,
You have no reviews to show on your website
You have reviews, but in other social networking websites such as Facebook recommendations, Twitter mentions or LinkedIn recommendations but not on your website
You have testimonials / reviews on your website but you cannot authenticate
You have a Testimonials / Review system built as part of your website which displays reviews received for your business / specific products. This means, you can display reviews for each of your products.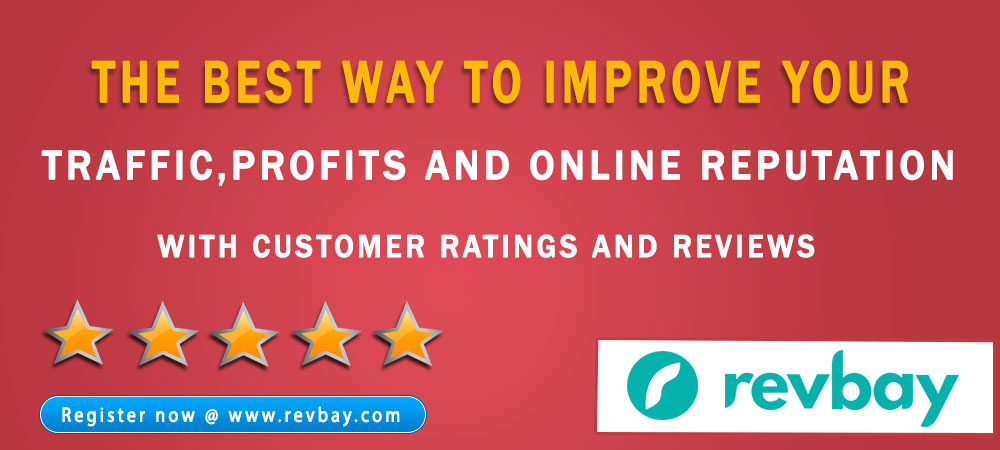 Your online reputation is one of your company's most important assets. Let us help protect it with our reputation management services. Contact us today to get started.
Got interested? Register @ www.revbay.com, It's Free. We shall help you setup and configure in no time. It will not take more than a day to become online.